| | |
| --- | --- |
| | www.southerner.net |
---
---



Lookin' for Home Cookin' in the Big Apple

---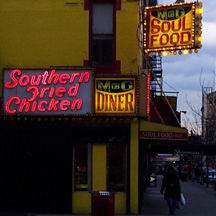 By Derrick Nunnally

It is darn near impossible to find good catfish in New York City.

      That sad, immutable knowledge would have saved me from a rancid meal of "Alabama Style Catfish" at the Columbia Dining Hall as a freshman if I had been warned. Instead, that was only one of many plates of soggy, flavorless filets purporting to be "fried catfish" I tried in New York restaurants. It shouldn't be too much to ask for one good order — a crispy, butter-smooth, flaky fish with the bone in.

      Finding passable hush puppies alone is an Arthurian quest here. Even when, on a rare occasion, you find them properly dark brown and crusty like at the Hog Pit, there's a good chance a bored chef slipped in some cheese and green pepper for the hell of it. And cornbread, always an appetizer up here, is often a soft, sugary cake-like yellow product, as at Emily's.

      It's not just in sit-down restaurants where Southern staples are rare here. You can't find Luzianne iced tea, a Krystal burger or a fresh, deep-red tomato anywhere. Okra and yellow-meated watermelons are reliably found only in gourmet grocery stores, like Fairway and Balducci. White Castle will do as a Krystal substitute, but there's only one south of 125th Street.

      The highest hopes come in restaurants, though, especially in those promising "Memphis-style ribs" or "picnic potato salad." These come up empty a lot, for reasons that often vary by neighborhood. Three different kinds of so-called Southern restaurants dominate different parts of Manhattan:

      Downtown, south of 30th Street, are a lot of restaurants that treat Southern food as "fusion cuisine," all too often subject to experimentation. I'll never understand, for example, Old Devil Moon's interpretation of crawfish pie: a peppery white crawfish chowder, served in a cup, over rice. Although truth-in-advertising can be a problem hereabouts, the experiments at least offer some surprises. Staple foods, such as fried catfish and cornbread, are done far better uptown, with a few exceptions.

      From 30th up to 96th Street, you're in a higher-traffic zone, so expect food geared and priced mostly toward tourists. It's mostly on the caliber of a Cracker Barrel or a Shoney's — not too adventurous and not much of an upside, especially among Times Square's big theme restaurants. Some smaller restaurants, notably in Chelsea and the Upper West Side, get much better, but they can be expensive (unless $14 meatloaf is your thing).

      Northward, especially above 125th Street, Southern food is prepared along more straightforward principles, with proper reverence given to the classics. You won't find soupy "jambalaya" in Harlem or any unusual beet-and-pecan mixtures, as you do downtown. It works for me, but, as an expatriate Southerner, my biggest goal here is finding food that reminds me of what I grew up with.

      Those are the best rules of thumb I know, but quality varies wildly by the restaurant, especially with New York's deviating standards. You can't really trust the published reviews up here, since they're mostly written by Yankees who would sugar their grits given half a chance. Disgusting.

      Here's what one Mississippian found in noted New York "Southern" restaurants:

      The Hog Pit (22 9th Ave. at 13th St.): Relaxed bar/restaurant (shoot some pool before dinner?) with downtown's best traditional Southern food. No real menu heresies — cheese hush puppies and a beet/pecan mixture are stretches that work. The staples are better: Fried green tomatoes are perfectly seasoned and crusted, as is the chicken-fried steak, while the catfish is just decent. Best side: chorizo cheese grits, creamy and thick with sausage. Iced tea is syrupy-sweet, and desserts are about average, but at least they're honest efforts-they even offer banana pudding.

      Old Devil Moon (511 East 12th St): An overrated New York "improvement" on Southern fare, with little attention to the fundamentals. The unsweetened iced tea is a warning sign: There's honey-sweetened cornbread and skimpy-crusted fried green tomatoes ahead, not to mention the soup called crawfish pie. Entrees are up-and-down; cajun catfish is soggy and bland, but the country-fried steak is ample and crispy. Not even Breyer's ice cream redeems the chewy, flat blueberry cobbler. More noted is brunch, but it's really no better. Biscuits were brick-dense, sausage gravy was spiceless, and the grits were runny. The building might have more Christmas lights and knickknacks than the Memphis Hooters. That's a sign of campy condescension, y'all.

      Virgil's Real BBQ (152 West 44th St.): Barbecue so good I let my girlfriend take me there on my birthday, but the crowds are touristy and noisy. Ribs stick to the bone, sauce is slick and spicy, and the brisket makes this one of the few places east of Texas where you should order barbecued beef. You don't expect so much out of a Times Square restaurant. Aside from the main items, sides are decent, cornbread is unsweetened and crumbly, and 100 available kinds of beer almost make up for the unsweetened iced tea.

      Spoonbread Too (366 West 110th St.): Checkered-tablecloth Mom 'n' Pop soulfood, just a short walk from Columbia University. Fried catfish is too watery to be good, but the thick, peppery-smothered pork chop is intense and filling. Traditional dishes get subtle enhancements, not outrageous experimentation: Green beans are long-cut and spicy, macaroni- and-cheese is dusted with cayenne (whoo!) and banana pudding comes with a sweet inch of meringue. The iced tea would be great as well if it weren't loaded with Sweet 'n' Low, and the cornbread is a little sugary.

      Emily's (1325 Fifth Ave.): The menu advertises "the best ribs in New York," but they still surprise. Good ribs and tablecloths don't often inhabit the same restaurant. Rib meat clings to the bone, has a juicy, smoky taste, and the thick sauce is spicy, not oversweet, cumulatively stunning. Sadly, the cornbread has issues, but the iced tea is lemony-sweet chuggable, almost a clone of Mistic-brand bottled tea. They also serve fried chicken and waffles, like many soul food restaurants, but the trappings don't hide chicken that is occasionally dry and stringy.

      M & G Diner (383 West 125th St.): The greasy spoon diner of Southern food I dreamed of, despite the blasphemies of not offering iced-tea and of muffinizing the cornbread. If those can be made up for, the porkchops do it — greasy-fried and meaty, the big order comes with a crust thickness you usually only see on fried chicken. Fried chicken, though, doesn't have as much crust, and is dry in places. Phenomenal black-eyed peas taste like they were simmered with a hambone all day, as is just and right. They're open 24 hours, and you'll see some interesting folks up there after midnight.

      Charles' Southern-Style Kitchen (2841 Frederick Douglass Blvd.): My Momma, on her best day, makes better fried chicken. Nothing else comes close. The chef, Charles Gabriel, "won't cook any chicken that hasn't been seasoned for eight hours" with a subtle, striking mixture that imbues tender, juicy chicken with as rich a taste as ever was put into chicken. The only thing Mom has on him is that she makes a crispier crust, but not by much. Smothered chicken and porkchops are also notable here, but go for the chicken, unless you're starving and up for the $9.95 buffet next door. Go hungry, do it justice, and stagger out full.

Back to Contents
---
---
Copyright © The Southerner 1999.