| | |
| --- | --- |
| | www.southerner.net |
---
---
Appalachian Trials

---
By John Lee

What does a 2,000-mile hike through the American wilderness have to do with a proposed museum on American law? Completion of both challenging projects is the ambition of Knoxville, Tenn., septuagenarian J.D. Lee.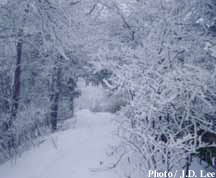 A snowy Appalachian Trail enclave.

    On July 6, Lee completed the 2,160-mile Appalachian Trail "marathon." The 5,267-foot summit of Mt. Katahdin, Maine, marked the end of the line for the Knoxville-based attorney, who celebrated his 70th birthday while on the trail. When asked why he would undertake such a demanding hike at his age, Lee said, "I'm not getting any younger."

    For his birthday celebration, the former Association of Trial Lawyers of America president was joined by fellow attorney, author and consumer-rights advocate Ralph Nader as the Trail passed through Pennsylvania's Pine Grove Furnace State Park. Joan Claybrook, president of Public Citizen (a Washington-based research and advocacy group) and former head of the National Highway Traffic and Safety Administration, also joined the march.

    Lee walked through 14 states to publicize the need for America's first-ever museum on the law, which Nader is organizing in his hometown of Winsted, Conn.

    "This is the first accredited museum on any section of the law," Lee says.

    "There are dog, cat, lantern, and 'nut' museums — you name it, there's a museum," Nader says. "There are 60 medical museums, and 33 timber and lumber museums, but no law museum."

    According to Laurie Potteiger of the Appalachian Trail Conference in Harper's Ferry, W.Va., 3 million people annually walk a segment of the Trail, and fewer than 5,000 Americans have completed this pilgrimage. The conference helps organize more than 4,000 volunteers to maintain the Trail. Living life on the A.T. is not easy.

    "Hiking the Trail brings home to you the basic necessities — food, water and shelter," Lee says. "The American Museum of Tort Law will show how our enjoyment of those basic things are protected and preserved through our tort systems."
No Picnic
    Lee was the first A.T. traveler of 1999, beginning his hike in Springer Mountain, Ga., on Jan. 1. The A.T. Conference advises hikers to not begin a northbound trek until April 15, due to the potential for dangerously cold weather. That was the first obstacle this particular adventurer confronted when an ice storm hit while he was hiking after dark. Since the days are short in the winter months, it seems Lee got lost on the barely marked path while attempting to cover extra miles. His detour into near oblivion occurred only a couple of days into his journey.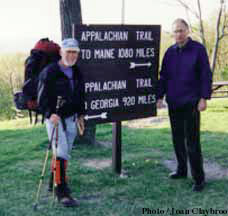 J.D. Lee and Ralph Nader meet near
Pennsylvania's Pine Grove Furnace
State Park.

    After abandoning his 40 pounds of gear — frozen solid to the ground — Lee managed to walk to a nearby road and flag down a passing motorist. (It seems that local Good Samaritans are accustomed to hikers needing help.) After thawing out his nearly frostbitten extremities and recovering his backpack and sleeping bag, Lee braved knee-deep snow for several weeks, until the spring thaw finally took effect.

    Another hiker was perhaps not so lucky. At a church hostel in Damascus, Va., the sheriff department posted a missing-persons advisory for a middle-aged male hiker who was presumed lost. Getting misplaced in the hundred-thousand-acre wood along the A.T. means scavenging animals will possibly devour any remains before search and rescue teams can locate someone. It was hoped the former Vietnam veteran could survive indefinitely in primitive conditions, due to his Special Forces training. According to the A.T. Conference spokesperson, this hiker is still missing.

    Trekking the Trail is no picnic, as hikers face risks, natural and unnatural. These include:
Bears
"Blowdowns" (areas of fallen trees)
Falls
Washed-out bridges
Medical emergencies
Vandalism, theft and arson of parked motor vehicles
Campfire Tales
    Sleeping every night outside of a locked home is fraught with "stranger dangers," where campers cannot escape the usual blights on civilization. Eric Rudolf — a suspect in the bombing of a Birmingham abortion clinic that killed an off-duty policeman, and in the Olympic bombing of 1996 which injured 111 people in Atlanta — lived in North Carolina near the trail. The former U.S. Army paratrooper and alleged member of the hate group Army of God (which claimed responsibility for the Birmingham bombing) is the target of an FBI Ten Most Wanted manhunt along the A.T.

    In an unrelated case, two female students were murdered along the trail in Virginia in 1996. The crime is still unsolved, according to the A.T. Conference spokesperson.

    "Their throats were slashed and they were bound," said the FBI's Bill Fall on America's Most Wanted. "Whoever did this certainly went down there with the intention to murder these people. It was so cold-blooded, it was a methodical killing. He knew what he was doing, and I would almost say he did it without any conscience or remorse and went on his way." (The FBI also noted similarities to another double homicide along a Virginia highway in 1986.) The two A.T. victims were experienced hikers — one worked part-time as a park ranger, the other planned to work as a backpack guide.

    In response to this crime and to help improve safety, a national "Take Back the Trails" campaign was organized by the Women's Professional Group of the Association for Experimental Education. According to a spokesperson, about half the effort came from gay and lesbian leaders, who believed the 1996 double murder was a hate crime.

    "Lesbians face a double threat of attack and harassment in the outdoors, because they're women and because they're lesbian," one of the organizers told The Washington Post on May 25.

    According to the A.T. Conference, a total of seven hikers have been murdered since 1970, when the Trail first began to get regular use. Just months after the 1996 killings, a man convicted of murdering two social workers from Maine on the A.T. in 1982 was paroled.

    In April of this year, the common malady of heart disease claimed a Maine hiker while he was sleeping through a snowstorm in a crowded shelter somewhere along the Tennessee-North Carolina border. The retired truck driver dedicated his trek to his late wife, who had died four years earlier of breast cancer. Fellow hikers promised to carry his bandanna the rest of the way to Maine as a tribute to their fallen comrade.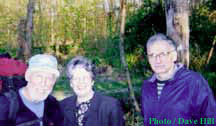 Lee, Claybrook and Nader on the A. T.

    Lee dedicated his journey to the founding of the American Tort Museum, which received donations covering half of the $5 million required. Nader's family has donated space in an historic 19th-century factory building, now known as The Law Works. Phil Donahue is one of its patrons. The museum will house exhibits on tort law, as opposed to criminal defense, divorce or business law.
Torts?
    Tort is not to be confused with "torte," the tasty pastry product. Webster's defines a tort as, "a wrongful act, injury or damage (not involving breech of contract), for which a civil action may be brought." Only 10 percent of America's 850,000 lawyers work in personal-injury law (the largest segment for employment is corporate law).

    Lee said this legal hall of fame will include displays relating to:
Workplace safety
Pharmaceuticals and medical devices
Toxics such as lead
Aviation
Motor vehicles
Industrial materials like asbestos
Industrial machinery and workplace safety
Medical malpractice.

    Exhibits may include an early model of the Corvair automobile, made infamous by Nader's 1960s book Unsafe at Any Speed. The Corvair initially had a nasty habit of turning over at 35 mph, as did similar designs by Volkswagen and other European sportscar manufacturers. Few authors are able to influence the design of perhaps millions of cars, and Unsafe was the first of its kind. Today, consumer advocacy segments on shows such as Dateline NBC are relatively commonplace.

    One section of the museum will show safety devices patented but never made available to the public. For example, a collapsible steering column for automobiles was first patented in 1911, but was not manufactured into reality until 1966 — a 55-year delay in public safety, says Nader. The American Tort Museum will also include an example of silicon breast implants, which, despite a recent study alleging the safety of leaky silicone, have resulted in billions of dollars in lawsuit settlements by Dow-Corning.
Crime in the Suites
    Much has been reported by the nation's so-called "liberal news media" about tort reform, and the alleged need for Congress to rein in the "frivolous" legal right of injured citizens to seek compensation for their financial, physical and emotional damages. (Vice President Spiro Agnew railed against the "liberal media" before his conviction for crimes committed as governor of Maryland.)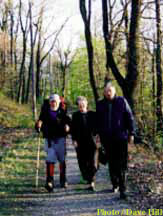 "Are we there yet?"

    Nader rails against such "tort deform," as he dubbed it. According to Lee but contrary to some media opinion, few attorneys actually take personal injury cases unless the evidence is overwhelming, since a lawyer risks losing tens of thousands of dollars in investigative and legal investment. Nader says the media utilize sophisticated censorship techniques to make their point, which he unabashedly terms "propaganda."

    "Let me put it this way," Nadar says. "The media that trumpets the corporations' position is vastly greater than the media that reports the accurate data."

    Such allegedly underhanded techniques are used by the media in their reporting of medical malpractice complaints, another planned display in the Tort Museum. In a 1994 seminar hosted by J.D. Lee in Knoxville, Nader warned, "In recent decades, we have seen a very powerful drive to diminish democratic participation and democratic remedies in our society. Unless people who are not lawyers understand how the common law of torts has developed a system respecting the physical integrity of the human being, just as civil rights (and) civil liberties respects those other dimensions of the human being, and if they don't understand how it has made society safer through deterrents, I don't think that structure of common law is going to survive."

    According to Lee and Nader, medical malpractice deaths outnumber combined total deaths from violent crime, terrorism, vehicle crashes (including drunk driving), and fire. This is downplayed by the media, they say.

    "In no other area has the deception been so gross and so widespread as in medical malpractice," Nader says. Out of $750 billion in annual medical revenues, doctors pay about $5 billion in malpractice insurance premiums. According to Nader, only half of the insurance money gets paid to victims of malpractice, with only one in ten victims receiving any compensation.

    A study by the Harvard School of Public Health found that 80,000 Americans are killed annually by medical malpractice in hospitals.

    "That's only in hospitals, not in the emergency rooms of hospitals, not in clinics, not in doctors' offices," Nader says. "That's why this 150,000 was sort of a guess to the rest of it, you know. The rest of them, like inner-city clinics, it's got to be double that."

    In the current emphasis on cracking down on street crime, there has been little mention of medical crime.

    "You hear nothing about violence in the suites: the hospital suites, the doctors' suites. The real 'malpractice crisis' is malpractice."

    J.D. Lee's 10 million steps, dedicated to what will be America's only museum on the law, is a giant boost for the rights of American citizens to have continued access to the American trial system, according to Lee and Nadar. Americans should also appreciate the 1968 National Trails System Act, which established the Appalachian Trail as America's first scenic trail, legally preserving it for the enjoyment of future generations.
---
[John Lee is a free-lance sports writer living in Knoxville, Tenn.].

Back to Contents


---

Copyright © The Southerner 1999.